By Megan Murray
With years of experience and specialist training in our Cowshed spas, our therapists are oracles when it comes to skincare. Thanks to working with our products and clients every day, our team has gathered the kind of first-hand knowledge that beauty enthusiasts dream of.
But, this time, instead of asking questions about our own skincare routines, we'd like to hear about theirs. So, we sat down in our Primrose Hill spa to find out five things that our therapist Andreea Dumitrescu wishes she'd known at the start of her skin health journey.
1. Your skincare routine starts with listening
'Learning to be in tune with my skin has been such an important lesson for me. When implementing my regime, I think about what I'm eating and drinking, how I'm sleeping, and even where I am in my menstrual cycle. I look out for signs of tiredness and dryness, and make some changes if I've been stressed recently.
'More than this, though, it's about really getting to know your skin. For example, feeling it before and after you've applied products and noticing changes throughout the month. Also, taking the time to touch your face (with clean hands, of course) is so important. Then, you can make regular informed assessments and begin to understand what you need.'
2. Choose the best skin cleanser for you
'Before I started working in this industry, I didn't realise how important properly cleansing my skin was. Not only is it crucial to spend some time on it (preferably using a double-cleanse method with a warm cloth), but there are also different types of cleansers for a reason.
'Those with oily skin may need something to reduce excess moisture, while someone who experiences dryness will require a gentle formula. At Cowshed we work with two different types of cleanser, which means we can help clients select a product that genuinely works for them.
'Our Gentle Face Cleanser is great for dry or combination skin types. You won't experience tightness after using it because it's very soft, while thoroughly cleaning pollution and grime from your pores. It contains Lavender essential oils to soothe, and Clary Sage and Lemongrass to nourish.
'My favourite is the Brightening Cica Gel Face Wash. How to make a complexion more radiant is a common question from clients, and I always recommend this. I love telling people about the properties of Cica, because I'm passionate about it as an ingredient. It's a kind of magic; it can heal wounds, stimulate collagen to make you look healthier, and give skin a boost.'
3. Why skin hydration is important
'Hydration isn't just about drinking a glass of water here and there. To optimise skin health, it's about looking at it from a 360 perspective. Ensure that, yes, you are drinking enough water, but also eating a diet rich in water-based foods.
'Include products in your skincare regime that replenish moisture,' Dumitrescu recommends. Our Essential Daily Moisturiser is infused with quinoa extract, which is brimming with vitamins, minerals, proteins and fatty acids to not only moisturise skin, but support its barrier function too. A stronger skin barrier means skin is able to maintain its natural moisture levels in the long run - a double win for your complexion.
'I'd also recommend using a toner that helps prepare your skin for moisturising, like our Refreshing Toner, which contains organic Aloe Vera and Rose Otto extract. Keep it in the fridge and spritz all over your face after cleansing, or whenever you need a hydrating boost throughout the day.'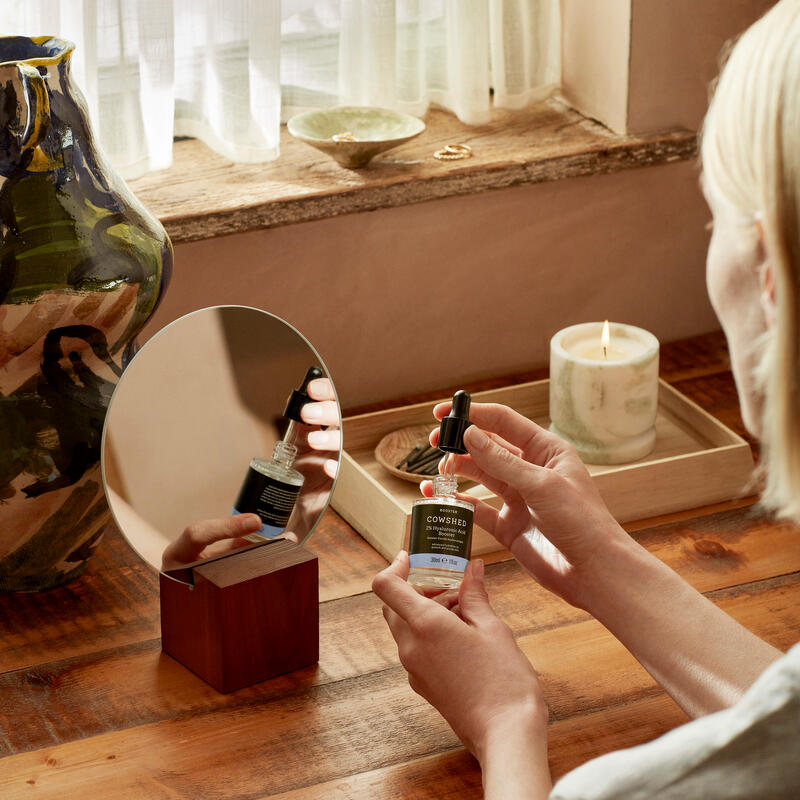 4. Always speak to a skincare professional
'I wish I hadn't listened to my friends when it came to skincare advice. Now, I understand that everyone's skin is different and that what worked for them might not work for me.
'It's tempting to look to YouTube or TikTok for help or to jump on the latest trend, but it's so important to go to a professional and get tailored advice for your skin.'
5. Make facial massage part of your skincare routine
'I love doing a daily facial massage at home. I keep two jade face rollers in the fridge and, after applying a facial oil or cream, use them in tandem on my face, rolling outwards to drain lymphatic build-up underneath my skin. I work upwards from the neck, out across the jaw line, underneath the eyes, and over the forehead.
'Consistency is absolutely the key. I do this every day and it makes such a difference in toning and sculpting my skin.'
Feeling inspired to enhance your own routine? Take Andreea's and shop all our skincare essentials now. Prepare for your glowiest skin yet…